Who is going to say no to a party invitation like this?
Its October... time to celebrate friends, fall and chocolate!

This is a girly party where we simply eat chocolate desserts
and talk a lot. If you wish, bring a chocolate dessert to share.
If you aren't a baker or have a busy week, just show up!
There's always plenty.

Our contest will include Best Presentation, Best Tasting and
Most Decadent. Hope to see you there!
A friend of mine has hosted her "Choctoberfest" party for several years now and it is always a hit! Well Duh!
Even though we all know we will be ill and you have to actually hurt yourself a little to taste all the chocolate goodness we still come back for more. Chocolate is addicting right? Well mix that with a party and watch the girls arrive with smiles on their faces!
Well hello there! You must have jumped right out of my dreams!
(talking to the table below of course;)
You know where some of us got our recipes...Pinterest of course. I actually wondered if some of us would show up with the same chocolate goodies since we all like to pin each others yummy recipes that we come across. See those pretty little raspberries stuffed with chocolate chips? So cute, simple and yummy!
These White Chocolate Peppermint Bon Bons are a Sandra Lee recipe and were awesome and so pretty.
You see that the fabulous hostess placed some nuts on the table as well as some chips and salsa in the living room. It's amazing how you can crave a good dose of salt after indulging in soo much chocolate!
O.k. So wanna see what I made? I was nervous about this but just had to try it. I had seen Chocolate Covered Bacon in a local candy store and had been dying to try it ever since. So what did I do? Searched Pinterest of course...
This is such a simple thing to do!
You'll need one package of bacon(not sure how many lbs that is?)
1 12 oz pkg of semi sweet chocolate chips
1/2 tablespoon Crisco(I know...like it wasn't fattening enough)
and then any toppings aka..spices your heart desires.
Thread your bacon on wood skewers and cook for 25 to 30 min per my experience.
While your cooking up the bacon heat your chocolate chips in the microwave or if you don't have one like us(we still haven't bought one...carazzy I know!) then heat them over some boiling water and then add in the shortening and mix well.
I don't own a pastry brush so I just spread the chocolate over the bacon with a spoon being sure to get in all the nooks and crannies.
Then I sprinkled some with cracked black pepper, some with cayenne and the rest with ginger! Fun and Yummy!
I placed them in the fridge and then scurried around the house looking for a way to display them.
I grabbed this little wagon which is suppose to be part of our fall decoration but has turned into a fun toy for the kiddos and then I destroyed my Halloween centerpiece because I needed the foam and viola...
I had a chocolate chuck wagon! Ha!
You have to try this! Just for fun..come on!
Want a few more Halloween ideas before the big celebration?
Head on over to visit Rachel @ The Crinkled Home to see what she has up her sleeve!
We are still Crawling around through the blogs of 5 other wonderful ladies so join in with us.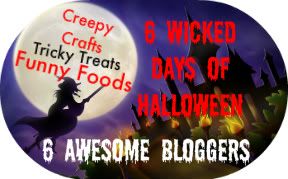 26th - 1st Kick off Here!
30th - Break For Project Pink
and to make it even more fun...
the 31st will feature a linky open to all to link up fun
projects to bid the season goodbye! So join in if you can!
Can't wait to see what everyone has been up to!