If your stopping by from the Creepy Crawl welcome! If you not then be sure to check back and follow along as we peruse the blogs of 6 special gals with special talents for all things creepy.
So glad to have you stop by!
I was beyond honored when Marilyn asked me to be a part of the Creepy Crawl leading up to Halloween and went all kinds of directions with what I wanted to put together.
Actually I put together one little project and couldn't wait to show you so I posted about it early. Check that post out HERE.
So here she goes. I was staring at this guy one day.....
and decided it's was time to do more than stick our mail in it and for that matter any little random star wars guys head, future project stuff, pennies, ponytail holders you name it!
Did you think I was bluffing? This is the norm right here
It was time to give him an important role on our table so I decided to attempt a Halloween centerpiece. I bought this block of foam for 40% off at Michaels(about 4 bucks)
I started looking for twigs
I have a tendency to steal from all around the house even if it makes the thing I am stealing from look sad for a bit. If you already have it use it right?
There was no glue used in this arrangement because I wanted to be able to use it all again for something else of course so I just pushed the twigs in...
Then covered the foam with spagna moss
and stuck the tried and true creepy black bird in for interest.
I searched all over for little bats and spiders but actually had no luck! Can you believe that? I found spider rings and and all kinds of colorful things but I wanted this to be a more grown up or sophisticated centerpiece. I ended up grabbing a package of scrapbooking Halloween stickers out of desperation and look how perfect they were. The 3D effect worked perfectly and the fact that I could just stick them on was just what I needed and I didn't even know it!
I love how it looks like they are crawling up the bowl and it actually freaks me out a little. I mean every once in a while I think we have a bug problem as I get a peek out of the corner of my eye.
I then made a few bats out of this crinkle paper that was of course 50% off.
I just cut around some glittery bats that I made last week by tracing a cookie cutter(they were intended for a project that I didn't get around to but this gave them a second life I suppose;)
I then used a needle and thread to make a loop to hang them
and then.....I went to town with spagna moss, spider webs, sticky spiders and bats.
Wanna see what I ended up with?
a huge, dramatic, spooky, yet somewhat sofisticated Halloween tablescape.
Our casa is lacking in light so I had the hubs involve on this one. Can you see him back there?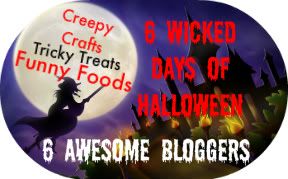 I can't wait to see what Bonnie
Follow along for more fun ideas as we countdown to Halloween!
30th - Break For Project Pink
and if you have a second go visit Marilyn @
and see what she concocted yesterday for day 1 of the