Hey there fellow Homebodies!
Wanna see something disgustingly good? Are you planning a Halloween party and need that one last gory detail? You have come to the right place!
A few fellow bloggers and I are participating in a Creepy Crawl that Marilyn from The Artsy Girl Connection has put together to countdown to Halloween. Day one is here and Miss Marilyn has outdone herself in the gory goodness factor!
Creepy Critter Potion
It looks out of this world creepy to me but oh so good for the mouth! Go visit The Artsy Girl Connection for the goods on her concoction!
Join in on the fun for the next 6 days as we hop over to visit many more talented ladies and the tricks up their sleeves!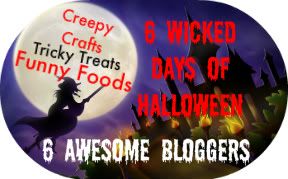 In case you aren't looking for creepy meet this guy!
Pin It
I think he turned out to be a cute little rustic Halloween greeting at the door.
First take a short road trip with your crew and go on a hunt..
do whatever little stretching or dancing you need to do to prepare
take a good look at each intricate detail
think about your selection
(what is mom going to try to achieve with these?)
there's a good one
look for a way to get a better view
Now really..I had no intention to do this little tower o' pumpkins to this extent. I thought I might put a couple on top of each other but this nope. I just couldn't help myself they fit so perfectly together!
So then I thought if I just added a little spagna moss at the bottom it would be more finished.
Then I decided it needed a little more..
I bought a few of these guys which were 1.49 and then 30% off.
then I had to buy some of this lovely chalkboard paint. This is where we are in life right now...I know I already have some in the garage somewhere...but you should see our garage at the moment! No please don't ...don't go in there..you will never come out! So I just bought more! If it saves a little sanity then I am down with buying it because you can never have enough chalkboard paint right?
I put the wood pennant little guys into one of the gazillion Scentsy boxes that I have laying around to avoid overspray and turned them into a cute little chalkboard bunting.
I strung them together with some raffia covered florist wire that I had actually bought for another project.
I didn't get any pics but you know what to do...Write something on the bunting!
Since the raffia was wired it was super simple to position it around the pumpkins
you can tell here that I just wrapped it around the stem of the top pumpkin to hold it in place
and then just tucked the rest in the back.
oh and you may notice I tucked a little more spagna moss in between some of these beauties!
I am soo happy with how warm and welcoming this turned out! Even if it does say "BOO"!
What do ya think? Have you found a way to display your pumpkin finds? Do you scatter them all around the house or do you come home with a mission to make something! Oh and don't worry we did get a jack o lantern out of them too!
See you tomorrow where my old friend spagna shows up again..
linking to:
At the Picket Fence
Blue Cricket Design
The Trendy Treehouse
Someday Crafts
DIY by Design
Savvy Southern Style
Between Naps on the Porch
Dittle Dattle
Sumos Sweet Stuff
Skip to My Lou
The Girl Creative
Todays Creative Blog
Hope Studios
Type A Decorating
Fox Hollow Cottage