This is our current living room.(I mention "current" because of the recent blast from the past posts about our first home) Or should I say this was our current living room..have I lost you yet? This little space is the most used area of our house yet is so hard arrange in a way that makes sense for our family. See that corner on the left? Stuffed to the brim with toys! That had become the toy box and free for all for the kids. We had super large furniture that took up too much space and as you can see it also had to be butted up against the walls. Ideally we would have had a sectional to put on the back wall that wrapped around onto the right wall but since we are always "about to put the house on the market" we didn't want to make the purchase. Although I did search about a 1 1/2yrs ago for the perfect kid friendly gray sofa and believe it or not couldn't find one(one that didn't break the bank that is). Now they are everywhere! I even when to Bassett where you can pick your own fabrics and had no luck. Crazy how much things change in a year. Anywho, that wall there on the right has always driven me crazy. It is really hard to decorate around a thermostat so we just threw something up and lived with it. I mean we really lived with it....all three of the photos on that wall are of our first born child and we have two more that never got there pictures up;)
BEFORE
So back to the we are going to " put our house on the market" comment. We have been thinking about selling for the past two years but the market in general has made us weary of making the move. The builder is still building in the neighborhood and it is tough to compete with them. So instead we have been in constant staging mode. I took all of our family photos down over a year ago and we try not to add anything that would get in the way of it being staged to sell. That being said we decided that it was time to move the big brown beasts out of the living room. They were weighing it down and there were a couple of huge rips in the leather that we didn't want to spend the money on because we didn't know if we could use them in the new place or not. So the big sofa is now in the garage and we moved the chair into the formalish living room. Not wanting to spend a lot I scoured Craigslist for microfiber sofas (we have 3 kids a cat and a dog) I found these brand new looking sofas and an accent chair for $500 or 600 I can't remember. The accent chair wouldn't fit and was too matchy matchy anyway so I sold it. Even though I wasn't really looking for blue I felt these were a good enough deal that we could sell them after we sold the house and at the same time they would lighten things up a bit. We had already bought the rug at the Crate and Barrel outlet and it has some aquaish blues in it and I apparently was in an aqua mood because I had bought the lamp for $30 at marshalls. So here we are with a ton of blue in the room. This is not what I had envisioned at all but hey it lightens it up a bit and looks clean and tidy.
As for the toy corner..there is a small closet under a staircase over to the right and we placed a low bookcase from Ikea with 8 large containers full of "stuff". The kids each have their own box labeled and it seems to be working out pretty well. I recently threw those pillows on the sofa(they were here and there in other rooms) and they add a bit to the sea of blue that we find ourselves in.
AFTER
So that's how our current living area became the staged good enough living area! I think it brightened it up for sure!
Now if it only always stayed like this! This is what I had to throw into the formal living so I could get a decent picture;)!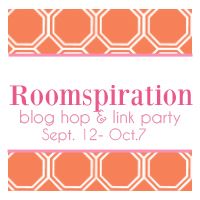 Linked to: